The Level 7 Extended Diploma in Strategic Management is an MBA Advanced Entry course, which provides learners with 120 credits of the 180 credits required to achieve a complete MBA. The course itself is made up of 30 interactive modules and 8 written assignments, with approximately 40 guided learning hours per module. All modules have an additional 30-50 learning hours of optional materials that comprise recommended exercises, recommended readings, Internet resources, and self-testing exercises. You will also have access to 24/7 support, tutoring, and a variety of other support mechanisms.
After receiving your Level 7 Diploma, you are eligible to apply for an MBA top-up course, either online or on-campus at a range of UK Universities. The top-up portion will usually consist of the final 60 credits of either a dissertation or a dissertation and one module.
On completion of this course, students have the opportunity to complete an MBA program from a range of UK universities. The top-up program can be studied online or on campus. The MBA top-up comprises the final 60 credits which consist of either a dissertation or a dissertation and one module.
Students may top-up on campus or by distance learning.
Students can apply to any university offering the MBA top-up, the following universities run Top Up programs by DISTANCE LEARNING:
University of Gloucestershire
Postgraduate Top up to MBA Business Administration – £2,500
University of Bolton
MBA Top-up – £3,500
Master of Business Administration Top Up
University of Sunderland – On Campus
Postgraduate Top up to MBA – £5,145
Anglia Ruskin University
MBA (Top-Up) – £3,500
Buckinghamshire New University
International MBA Top-up – £3,000
Northampton University
Top up to MBA– £3500
MA in Human Resource Management Top-up – £2200
MSc in Accounting and finance Top-up – £3800
Executive Master of Business Administration Top-Up MBA – £3510
University of Derby
Top up to MBA – (partial exemption)
University of Chichester
To enroll in the Level 7 program, you must be either
a) a a university graduate who is over 22 years old, or
b) a non-university graduate over 24-year-old, and with at least five years of managerial experience.
Paying for School
The program does not charge students for their educational instruction, course materials, or annual enrollment. It does charge modest fees for application and examination processing. The current fee schedule is as follows:


Application Fee - $100
The Application Fee is non-refundable and must be submitted by the applicant along with the application for admission. The Application Fee does not include any additional fees that may be required for third-party evaluation.
Students are required to pay an Assessment Fee of only $600 USD for Each Semester
For enrollment, students must pay 2-semester assessment fees which is $1200 USD

The estimated total fees for the Postgraduate Diploma in Strategic Management (Level 7) are as follows: $1,200 for 2 Semester
Cancellation Policy
Students have the right to cancel their Enrollment Agreement at any time and are not charged any Assessment Fees during the first seven days of enrollment or prior to the first day of classes. A student's notice of cancellation must be received by the University in writing via email to student.services@universityroad.org. Notice of cancellation is effective if it shows that the student no longer wishes to be bound by the Enrollment Agreement or to continue his or her attendance at the University. The notice of cancellation is effective five days after the time the University receives the notification of the cancellation. During this time, the student may notify the University that he or she no longer wishes to cancel his or her enrollment.
Refund Policy
Students who drop or withdraw from a course within the required deadline is not required to pay the Assessment Fee.
The Application Fee is non-refundable except in instances when applicants withdraw their application for admission before an admissions decision is made. Applicants may write a formal request for a refund of the Application fee to their personal advisor. If approved, refunds will be available to the applicant within 30 days of the submission of the formal request and the refund will be issued using the same payment method used by the applicant to pay the fee.
Students who remain in their course beyond the course withdrawal deadline are not eligible for a refund of the Assessment Fee. The Assessment fee is only refundable in instances where the University has canceled a student's course or if the student's work was not assessed at all during the course.
The ATHE Level 7 Diploma in Strategic Management Course has 30 modules and 8 written assignments. On completion of the modules, students will be given access to the assignments. The assignments are approximately 5,000-8,000 words each. Students are provided support on the modules and assignments via the 'Tutor' section of the learning platform.
The Assignment unit titles for the level 7 course are:
1. Strategic marketing
2. Personal development for leadership and strategic management
3. Organizational behavior
4. Strategic planning
5. Research for strategic development
6. Finance for strategic managers
7. Strategic human resource management
8. Corporate communication strategies
Qualities of effective leadership
Learners will explore the making and developing of powerful leaders.
Developing interpersonal skills
Connecting and bonding with people within the commercial sectors is extremely important for good business. This module trains learners in skills to improve and enhance communication techniques to create strong bonds.
Motivating and influencing people
Inspiring people to create a unity of direction within the business.
Making decisions
Doing the right things in the right way at the right time. Learners will look at the process of making a good decision.
Creativity and problem-solving
Do problems pose a threat or are they an opportunity to improve? Here, learners will figure out how to turn a problem into an advantage.
Studying and using management theories
There are many theories concerned with management and the various models developed from these theories. This module looks over these theories with real life examples.
The external operating environment of business
Planning for influences on the business outside your control.
Culture and ethics
The Culture and ethics involved in the business world today.
Governance and directorships
Structuring and controlling a business the professional way.
Analysing the competition
What are my competitors doing, how are they doing it, why are they doing it? Reviewing and analysing competitor actions to enhance managerial roles.
Marketing strategy
Creating an effective and successful market presence. Looking at the development of marketing strategies to create successful marketing campaigns.
High performance sales
Learners will grasp the key elements of successful selling.
E-Marketing communication
Understanding and using effective electronic messages to market.
Customers and their needs
Ensuring that your customers are recognised and valued.
Strategic human resource management
Human Resource Management must play a central role in the strategy of any organization. It is concerned with people as an asset of the business.
Recruiting and CPD
Getting the best people. Developing the best people. Keeping the best people.
Measuring and rewarding performance
Knowing and measuring how your people are performing.
Interpreting business accounts
Using and understanding the litmus tests of business health.
Tools of financial analysis
Resources, tools and techniques to keep a finger on the pulse of the business.
Managing cash and working capital
Cash, cash flow and working capital. The lifeblood of business.
Exercises in quantitative techniques
How to use and understand key figures.
Impact of technology on business
Analyse and exploit the role of e-business within a business sector.
Innovation and R&D
Creating commercial advantage from innovation and research.
Implementing and managing quality systems
Right first time, right every time. The place of quality in business strategy.
Strategic planning tools
Resources, tools and ideas to help create an effective business strategy.
Strategic and systems management
Options for strategic direction. Making the right choices for your business.
The business plan
Creating a plan that targets the stated aims and objectives of a business.
Developing high-performance teams
Cohesion and teamwork that enhances business performance.
Managing projects
Getting things done. Using the right tools to run projects.
Strategies for growth
This module explores the different ideas of growth and the various tools, measures and controls at a managers disposal in planning for growth.
Upon successful completion of the Postgraduate Diploma in Strategic Management and the final year of an accredited postgraduate degree program, learners will have the skills to execute a professional managerial role in marketing, accounting, business consultancy, and more.
A business management diploma and MBA develops key cognitive skills such as critical thinking, analysis, evaluation, and writing while also establishing presentation and numeracy skills to enhance knowledge and experience. These skills are critical in helping you advance your career.
Technology Requirements
To complete a degree program at University Road, students will need to have consistent access to a computer with a reliable internet connection. If students are working on a computer that is not their personal computer and are unable to save documents, it's important also to obtain an external drive. Because there are no mandatory video materials for University Road courses, this drive can be a simple USB drive.
Most of the learning materials that students will be dealing with in their UR courses are compatible with Adobe PDF or Microsoft Office. Our learning platform, Moodle, can be accessed by the latest versions of IE, Safari, Opera, and Chrome, but we recommend that students use the latest version of Mozilla Firefox. Note also that although working through a mobile device is not recommended, it is an option. There is no need to purchase software to study at University Road.
Note that whatever system students choose to use, all files shared with Course Instructors and classmates must be saved in either Microsoft-compatible formats or PDF format.
FAQ
1. Is it available for students from every country?
Yes
2. How many hours per week?
15-20 hours per course per week.
3. How many students per class?
20-30.
4. Can students fail? Can students re-sit? How many times?
Yes, students can fail, and they are permitted to re-sit – once.
5. How are students graded?
Students will be graded on performance on assignments that can include quizzes, discussion forum submissions, papers, case studies, projects, presentations, and more.
Cirtificate
Postgraduate Diploma in Level 7 from ATHE
Become a part of a global network.
Get a Level 7 in Strategic Management Degree from ATHE

Engage with participants from over 195 countries
World-Class Faculty
Industry-relevant curriculum for Career Enhancement & Growth
Regular interaction with Global Faculty & Industry Experts
Peer-to-peer interaction with learners from across the globe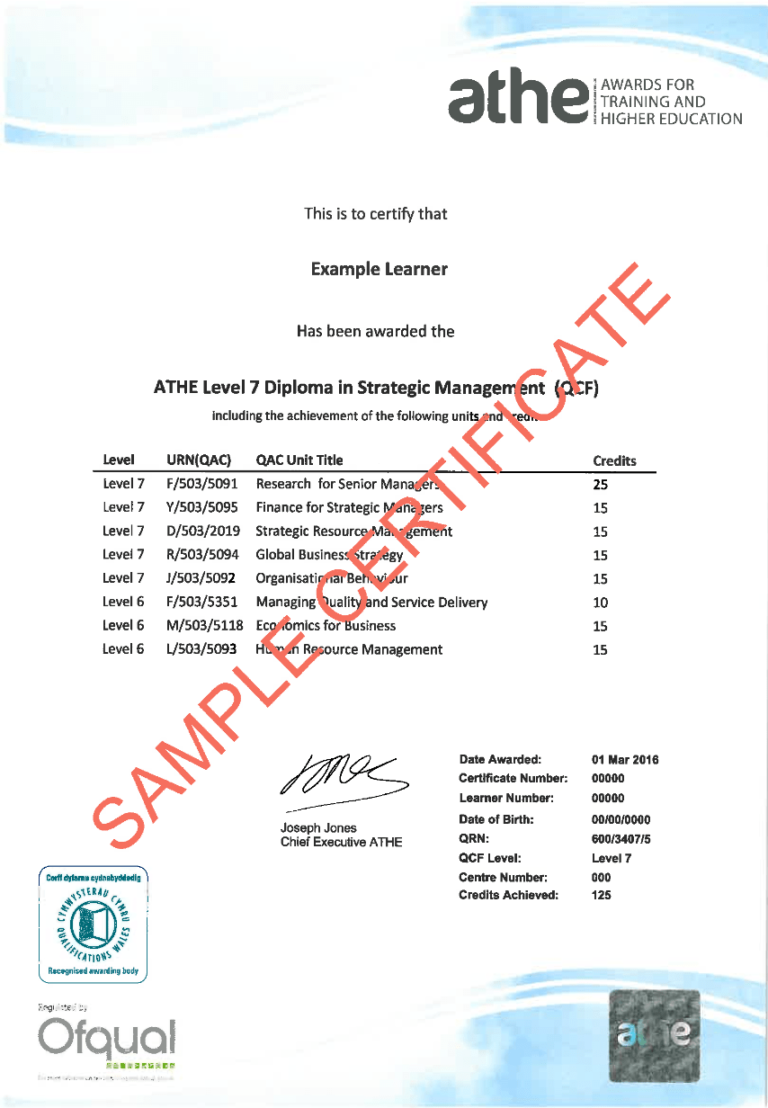 The University Road Advantage
Industry Mentors
Receive unparalleled guidance from industry mentors, teaching assistants, and graders
Receive one-on-one feedback on submissions and personalized feedback on improvement
Student Success Mentors
A dedicated Success Mentor is allocated to each student so as to ensure consistent progress
Success Mentors are your single point of contact for all your non-academic queries
Q&A Forum
Timely doubt resolution by peers and Teaching Assistants on the Q&A forum
Personalized feedback on assignments and case studies
Expert Feedback
Personalized expert feedback on assignments and projects
Regular live sessions by experts to clarify concept-related doubts
Industry Networking
Live sessions by experts on various industry topics
Group discussions
One-on-one discussions and feedback sessions with industry mentors
Admission Details
APPLICATION PROCESS
Candidates can apply to this program in 4 steps.
ADMISSION COUNSELORS
We have a team of dedicated admissions counselors who can guide you as you apply for this Data Science certification. They are available to:
Address questions related to your application

Provide guidance regarding financial aid (if required)

Help answer questions and understand the program
Get advice from our admission counselors.
Empowering learners of tomorrow
Over 2000 students have completed this course and started working at their dream job, what's stopping you?
Sign up for the Postgraduate Diploma Level 7 today!
Features/Benefits
Get a Level 7 Degree from ATHE

Engage with participants from over 195 countries

World-Class Faculty

Industry-relevant curriculum for Career Enhancement & Growth




Regular interaction with Global Faculty & Industry Experts




Peer-to-peer interaction with learners from across the globe
My future plans are to set my own business and use my strategic knowledge that is gained through this course in order to achieve the best results.&nbs ..
Ayesha Aamir
Postgraduate Diploma (Level 7) in Strategic Management