The Master of Business Administration (MBA) aims to provide the student an opportunity to further enhance their business acumen by tying academic concepts to practical applications relevant to current real-world business challenges. The combination of analytical, quantitative, and strategic skills gained through the program provides a foundation from which multiple professional opportunities can be pursued. The program is designed to serve the needs of both fully employed and full-time students.
CONCENTRATION
Available concentrations:
1. MBA in Management Information System (CIP Code 52.1201)
2. MBA in Business Analytics (CIP Code 30.7102)
PROGRAM LEARNING OBJECTIVES (PLOs)
Primary objectives of this program include equipping students with the knowledge and ability to:
1. Develop mastery of functional components of business including management, marketing, finance, organizational behavior, and management
2. Synthesize independent, critical thinking, and reasoning skills in evaluating business issues and formulate possible solutions using problem-solving and decision-making abilities
3. Master the conventions of written and oral communication including awareness of audience and other situational factors
4. Evaluate, analyze, and communicate quantitative and financial data in improving and sustaining strategic business initiatives
5. Value and integrate Christian ethics and global perspective in decision-making
Admission Requirements
Education:
IAU requires evidence of an earned bachelor degree in business, management, or administration. All degrees must be earned at an appropriately accredited institution or foreign equivalent. IAU understands the differing rigor of schools and grading scales around the world, and IAU evaluates prior academic credentials within their own context. Exceptions may be made on a case-by-case basis.
Professional Experience:
IAU recommends 3 years of full-time professional experience, including, but not limited to, private, public, for-profit, non-profit, start-ups, or established corporate organizations.
Information Technology:
Possess computer and internet skills sufficient to effectively participate in IAU's pedagogical model and conduct research at the graduate level.
Evidence of English Proficiency:
IAU requires writing skills at the appropriate level. Proficiency in reading, writing, speaking, and understanding English is essential to your success at IAU. If English is not the applicant's native language, or if an applicant has not had their secondary education taught in English, they will be required to provide proof of English Proficiency. Since classes are taught in English, an applicant must demonstrate their ability to read, write and speak English.
Transferability
Transferring Credits to IAU:
Maximum Total Credit Awarded is 6 units:


Transfer Credit (TRC): 6 credits


Standardized Exam Credit (SEC): 0 credits
Paying for School
The program does not charge students for their educational instruction, course materials, or annual enrollment. It does charge modest fees for application and examination processing. The current fee schedule is as follows:


Application Fee - $100
The Application Fee is non-refundable and must be submitted by the applicant along with the application for admission. The Application Fee does not include any additional fees that may be required for third-party evaluation.
Students are required to pay an Assessment Fee of only $600 USD for Each Semester
For enrollment, students must pay 2-semester assessment fees which is $1200 USD
The estimated total fees for the MBA are as follows: $2,400 for 4 Semester
Cancellation Policy
Students have the right to cancel their Enrollment Agreement at any time and are not charged any Assessment Fees during the first seven days of enrollment or prior to the first day of classes. A student's notice of cancellation must be received by the University in writing via email to student.services@universityroad.org. Notice of cancellation is effective if it shows that the student no longer wishes to be bound by the Enrollment Agreement or to continue his or her attendance at the University. The notice of cancellation is effective five days after the time the University receives the notification of the cancellation. During this time, the student may notify the University that he or she no longer wishes to cancel his or her enrollment.
Refund Policy
Students who drop or withdraw from a course within the required deadline is not required to pay the Assessment Fee.
The Application Fee is non-refundable except in instances when applicants withdraw their application for admission before an admissions decision is made. Applicants may write a formal request for a refund of the Application fee to their personal advisor. If approved, refunds will be available to the applicant within 30 days of the submission of the formal request and the refund will be issued using the same payment method used by the applicant to pay the fee.
Students who remain in their course beyond the course withdrawal deadline are not eligible for a refund of the Assessment Fee. The Assessment fee is only refundable in instances where the University has canceled a student's course or if the student's work was not assessed at all during the course.
Program Requirements
Complete 36-semester units of the prescribed curriculum.
Complete all required course work with a cumulative G.P.A. of 3.0 on a 4.0 scale.
Apply for graduation and meet all academic and financial requirements.

Curriculum
MBA Program Requirements

Units

Core Module

8 courses
24 units

BUS 530 Management Information Systems

3

BUS 540 Business Law for Managers

3

BUS 590 Business Strategy

3

ECN 500 Managerial Economics

3

FIN 500 Financial Management

3

MGT 500 Organizational Behavior & Leadership

3

MGT 510 Human Resource Management

3

MKT 500 Marketing Management

3

Elective OR Concentration Module

3 courses
9 units

Elective Module

Concentration in Management
Information Systems

Concentration in
Business Analytics

Any graduate course code 500-999.

MIS 550 Enterprise Resource Planning for Managers

MIS 555 Business Analytics

3

Any graduate course code 500-999.

MIS 555 Business Analytics

MIS 560 Database Management Systems

3

Any graduate course code 500-999.

MIS 565 Information Technology Audit and Risk Management

MIS 570 Applied Decision Making

3

Capstone Module

1 course
3 units

BUS 700 MBA Capstone: Strategy & Competition

3

MBA Total Units

36
COMPLETION TIME
Program

Standard (Yrs)
Full Time

Standard (Yrs)
Part-Time

150% (Yrs)
Full Time

150% (Yrs)
Part Time

Master Degree

2

4

3

6
Careers
52.0201) Business Administration and Management, General
* Source: https://www.onetonline.org/crosswalk/CIP?s=52.0201&g=Go
| | |
| --- | --- |
| SOC | Occupation |
| 11-1011.00 | Chief Executives |
| 11-1021.00 | General and Operations Managers |
| 11-2022.00 | Sales Managers |
| 11-3011.00 | Administrative Services Managers |
| 11-3051.00 | Industrial Production Managers |
| 11-3071.01 | Transportation Managers |
| 11-3071.02 | Storage and Distribution Managers |
| 11-9021.00 | Construction Managers |
| 11-9151.00 | Social and Community Service Managers |
| 11-9199.01 | Regulatory Affairs Managers |
| 11-9199.02 | Compliance Managers |
| 11-9199.03 | Investment Fund Managers |
| 11-9199.04 | Supply Chain Managers |
| 11-9199.07 | Security Managers |
| 11-9199.08 | Loss Prevention Managers |
| 11-9199.09 | Wind Energy Operations Managers |
| 11-9199.10 | Wind Energy Project Managers |
| 13-1051.00 | Cost Estimators |
| 13-1111.00 | Management Analysts |
| 25-1011.00 | Business Teachers, Postsecondary |
CAREERS BEGAN BY IAU MBA STUDENTS
Accounting Specialist (13-2011), Accountant (13-2011), Accountant Intern (13-2011), Accounting & Finance Intern (13-2011), Accounting Assistant (13-2011), Acquisition Manager (11-9199), Administrative Assistant (43-6010), Advanced Analytics Analyst (13-1111), Application Developer (15-1132), Applications Engineer (15-1132), Architectural Designer (11-9041), Assistant Account Manager (13-2011), Assistant Branch Manager (11-9199), Assistant Finance Manager (413395), Assistant Manager (11-9199), Assistant Manager -Accounting (13-2011), Assistant Media Planner (27-3099), Assistant Project Manager (13-1082), Associate Actuarial Analyst (15-2011), Audit Associate (43-3031), Audit Senior Assistant (43-3031), Benefits Specialist (13-1141), Bookkeeper (43-3031), Branding/Marketing Manager (11-9199), Business Analyst (13-1199), Business Immigration Paralegal (23-2011), Business Intelligence Analyst (13-1199), Business/Technical Analyst (13-1199), Care Assistant (29-9099), Case Manager (11-9199), Cash Management Coordinator/Accounts Payable Clerk (13-2011), Clerical Assistant (43-4121), Clinical Coordinator (19-3031), Compliance Manager (13-1041), Customer Service/Sales Associate (43-4050), Data Analyst (43-9020), Data Analyst Intern (43-9021), Data Scientist (43-9020), Design Associate (27-1020), Designer (27-1020), Digital Analyst (15-1255), Digital Marketing Coordinator (13-1161), Digital Marketing Intern (13-1161), Digital Marketing Manager (44501), E-commerce and Marketing Assistant (13-1161), E-Commerce Business Analyst-Intern (13-1199), Finance Office Assistant (13-2050), Finance/Administrative Intern (13-2099), Financial Advisor (13-2050), Financial Analyst (13-2051), HR/Operations Assistant (43-4161), Industrial Engineering Supervisor (17-2112), Intern Architect (17-1010), International Marketing Intern (13-1161), Int'l Theatrical Media Specialist(27-3099), Internet Sales (41-3099), Invoicing/Marketing Researcher (13-1161), Jr. Accountant (13-2011), Junior Designer (27-1020), Language Instructor (25-1123), Legal Assistant (23-2011), Management Intern (13-1082), Manager (11-9199), Manager Assistant (11-9199), Marketing Analyst (13-1161), Marketing Assistant Intern (13-1160), Marketing Business Manager (11-2021), Marketing Specialist (13-1161), Marketing Specialist/Coordinator (13-1161), Mulesoft/Java Developer (15-1130), Office Assistant (43-6010), Office Manager (11-1021), Operation and Administrative Support (43-1000), Operation Manager (11-1021), Operations Controller (13-1199), Package Designer Assistant (27-1020), PR/Marketing Intern (27-3031/13- 1161), Pricing/Market Analyst (13-1161), Product and Marketing Associate (13-1161), Production Assistant (27-2012), Project Designer (27-1020), Project Manager (11-9199), Project Assistant (13-1082), Public Relation / Marketing Specialist (36831), Purchasing Coordinator (13-1023), Purchasing Specialist (11-3061), Quality Assurance Engineer (15-1253), Sales & Marketing Assistant (44136), Sales & Marketing Staff Member (44136), Sales Assistant (41-0000), Sales Associate (41-3099), Sales Coordinator (41-0000), Sales Manager (11-2022), Sales Representative (41-3000), Sales/Marketing Intern (13-1021), Senior Designer (27-1020), Shipping Manager (43-5071), Social Media Marketing Assistant (27-3000), Software Engineer (15-1252), Software Engineer Intern (15-1130), Speech-Language Pathologist Assistant (SLP-A) (29-1127), Sr. Actuarial Analyst (15-2011), Staff Accountant (13-2011), Systems Engineer (17-2061), Technical Manager (11-9199), Video Communication Specialist (27-3099).
Technology Requirements
To complete a degree program at University Road, students will need to have consistent access to a computer with a reliable internet connection. If students are working on a computer that is not their personal computer and are unable to save documents, it's important also to obtain an external drive. Because there are no mandatory video materials for University Road courses, this drive can be a simple USB drive.
Most of the learning materials that students will be dealing with in their UR courses are compatible with Adobe PDF or Microsoft Office. Our learning platform, Moodle, can be accessed by the latest versions of IE, Safari, Opera, and Chrome, but we recommend that students use the latest version of Mozilla Firefox. Note also that although working through a mobile device is not recommended, it is an option. There is no need to purchase software to study at University Road.
Note that whatever system students choose to use, all files shared with Course Instructors and classmates must be saved in either Microsoft-compatible formats or PDF format.
FAQ
1. Is it available for students from every country?
Yes
2. How many hours per week?
15-20 hours per course per week.
3. How many students per class?
20-30.
4. Can students fail? Can students re-sit? How many times?
Yes, students can fail, and they are permitted to re-sit – once.
5. How are students graded?
Students will be graded on performance on assignments that can include quizzes, discussion forum submissions, papers, case studies, projects, presentations, and more.
Cirtificate
Master of Business Administration (MBA)
Become a part of a global & strong alumni network.

Get an MBA Degree from American Leading Business School

Industry-relevant curriculum for Career Enhancement & Growth

Regular interaction with Global Faculty & Industry Experts

Peer-to-peer interaction with learners from across the globe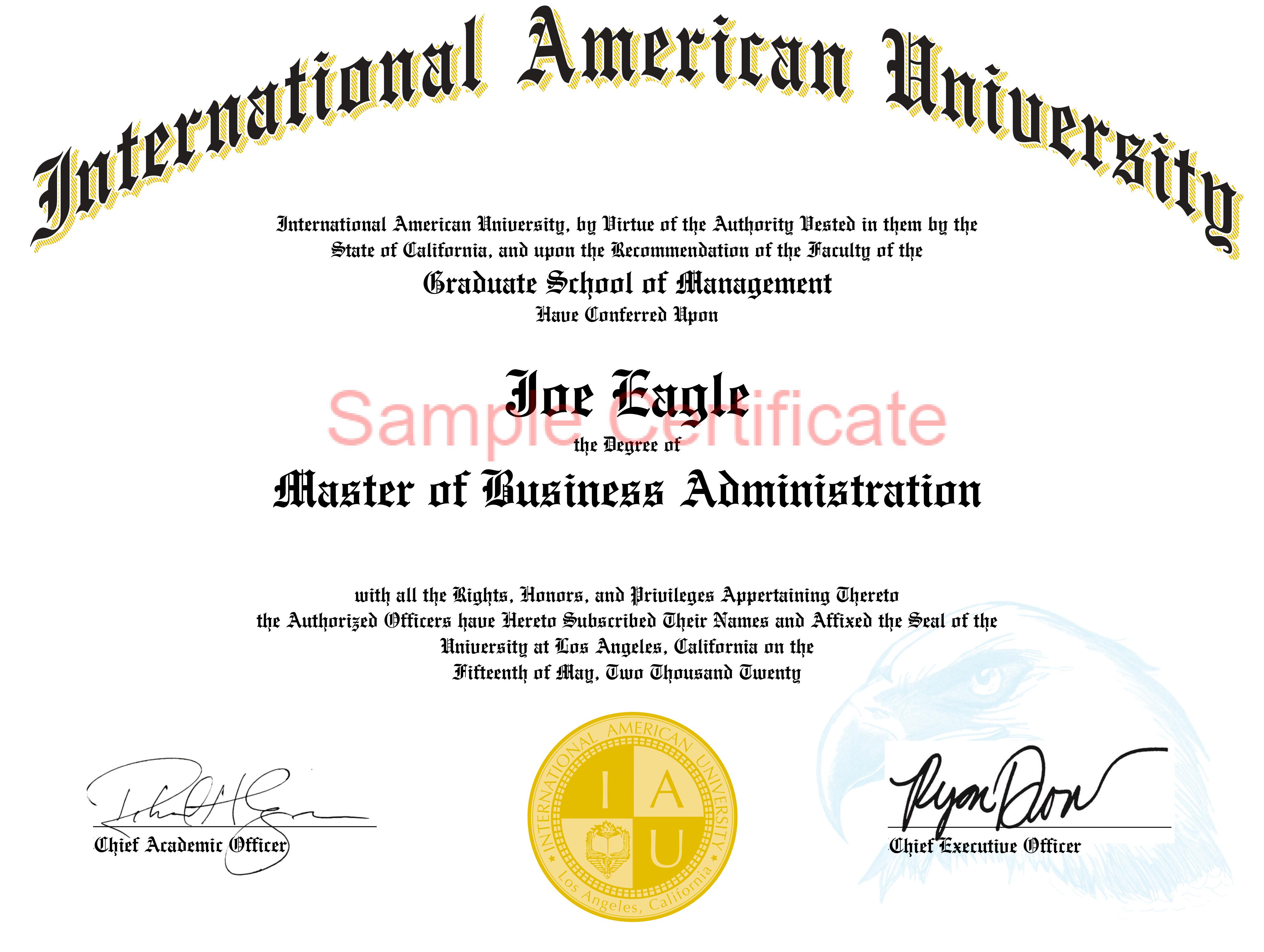 The University Road Advantage
Industry Mentors
Receive unparalleled guidance from industry mentors, teaching assistants, and graders
Receive one-on-one feedback on submissions and personalized feedback on improvement
Student Success Mentors
A dedicated Success Mentor is allocated to each student so as to ensure consistent progress
Success Mentors are your single point of contact for all your non-academic queries
Q&A Forum
Timely doubt resolution by peers and Teaching Assistants on the Q&A forum
Personalized feedback on assignments and case studies
Expert Feedback
Personalized expert feedback on assignments and projects
Regular live sessions by experts to clarify concept-related doubts
Industry Networking
Live sessions by experts on various industry topics
Group discussions
One-on-one discussions and feedback sessions with industry mentors
Admission Details
APPLICATION PROCESS
Candidates can apply to this program in 4 steps.
ADMISSION COUNSELORS
We have a team of dedicated admissions counselors who can guide you as you apply for this Data Science certification. They are available to:
Address questions related to your application

Provide guidance regarding financial aid (if required)

Help answer questions and understand the program
Get advice from our admission counselors.
Empowering learners of tomorrow
Over 1000 students have completed this course and started working at their dream job, what's stopping you?
Sign up for the MBA today!
Features/Benefits
MBA Degree from International American University, USA

Alumni Status

World-Class Faculty

Industry-relevant curriculum for Career Enhancement & Growth

Regular interaction with Global Faculty & Industry Experts

Peer-to-peer interaction with learners from across the globe