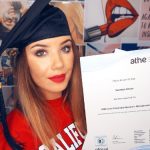 Veronica
Level 4&5 Business Management
It is never going to be easy, but it is definitely worth it."
Veronica has recently graduated from Level 4&5 Business Management course. Read below her University Road experience.
Why did you choose to study at University Road?
I chose to study at University Road because I wanted to continue with my studies to get a diploma and improve my career in the future.
How would you describe your experience of studying with University Road?
My experience was a little bit difficult as I also work full time; however, I am very happy that all the hard work paid off. I am very grateful to everyone who supported me throughout the studies.
What did you like the most about the course with University Road?
I really appreciate the support you give to your students because when studying online it takes a lot of self-motivation to do so and having the kind of support you provide is very good and very helpful.
Do you have any advice for current or prospective students?
To keep going, even when it is hard, they need to keep going so that they can improve, grow, and learn. Of course, it is never going to be easy, but it is worth it.
What are your plans now?
I am going to continue working and growing with W Brand and continue building my online business.