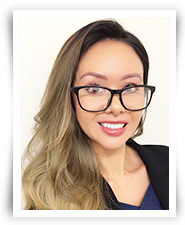 Elizabeth Nguyen, M.B.A. | Faculty
International American University
M.B.A.; University of Phoenix; Phoenix, AZ

Elizabeth Nguyen is a Business Taxes Compliance Specialist for the California Department of Taxes and Fee Administration since 2011. She leads a team of government professionals for the largest district office in the State of California. This department successfully generates one third of the entire state's revenue, allowing jobs and public services to be funded. She also holds a California Real Estate License and works in both commercial and residential real estate areas.
Ms. Nguyen earned a degree in Master of Business Administration from the University of Phoenix and has professional experiences in different areas of business: management, training, sales, coordinating, marketing, compliance, audit, and business taxes. In addition to her professional involvements, she has also worked on numerous local projects with the Orange County Food Bank Drives and the Women of Power Conferences. These events were all non-profit efforts to help special causes for the community, and to also share information on new opportunities.
Aside from business, Ms. Nguyen spends her leisure time researching on natural medicine, health, and fitness. She believes in empowering people through knowledge of natural remedies to prevent diseases, improve mental clarity, and build strength physically.