Ten modules and five written assignments make up the level 6 diploma in business administration; each module has about 40 hours of supervised instruction. Students will have access to a variety of study tools while completing their online business diploma, including webinars, social learning forums, tutor support, and other materials to aid in finishing their graduate business course.
People who are at least 25 years old, have 5 years of managerial job experience, do not have a degree but want to enroll in an MBA or postgraduate business program and want to take this course can benefit from it the most.
PROGRAM LEARNING OBJECTIVES (PLOs)
Primary objectives of this program include equipping students with the knowledge and ability to:
Develop a broad foundation in general education fields of study with an emphasis on critical thinking
Acquire a broad understanding of the business field and apply it to a global contemporary business environment
Demonstrate written and oral communication skills
Understand the basic concepts of supervision and leadership, and apply leadership skills at the individual and group level
Understand how Christian teachings, ethical principles, and core personal values are involved in business decision-making, and develop a Christian global perspective with respect for diverse cultures and faiths
This course will be most suited to individuals who are at least 25 years old and have 5 years of managerial work experience, and do not have a degree but wish to study for an MBA or postgraduate business program. On successful completion of the course, students will be able to enroll in our level 7 postgraduate diploma in strategic management and leadership or a range of other postgraduate courses.
Maximum Total Credit Awarded is 120 units:
Transfer Credit (TRC): 120 units
Standardized Exam Credit (SEC): 120 units
The course fee for this program for 1st year is $5400.
Students can make payment using one of the following methods:
Credit or debit card
Bank transfer
The level 6 program is for non-university graduate mature students (age 25 or older) who have five years of managerial work experience and want to study for an MBA.

IT in business
There is clear evidence that information technology provides a competitive advantage, whatever the business sphere an organization operates it, this module will assess pros and cons of using information technology within the business.
Effective communications
Information is the most valuable asset in contemporary organization, and communication is the method by which information is shared. It is on the basis of information that business decisions are made. So without effective communications, an organization simply cannot perform optimally.
High-performance teams
This module is designed for both new and experienced managers. Using a mix of information, personal and team activities, it aims to help learners develop new team-building skills or refine and expand the team-building skills they already possess.
Leadership skills
Good leadership is essential for success in any organization, whether in the private or public sector. Today, rapid change, in the form of a constantly changing competitive environment, innovations in technology, and changing economic conditions, have led to the realization that leadership is a skill to be developed.
Manager's toolkit
There are literally thousands of management tools and models which can be used for analysis, problem-solving, and strategy development. The trick for the practicing manager is to master a few which are versatile and can be used in most of the situations you are likely to encounter.
Managing and using finance
This module covers key areas of accounting, as seen from a business perspective. It explains how accountancy can inform and guide management decisions.
Managing and using marketing
The focus of marketing is on the customer and customer satisfaction – meeting the needs of customers through the products/services we sell and offering the customer what they perceive as value. Today customers have higher and higher expectations for quality, service and value.
Managing organizations
There is a great deal of focus on creating the right type of organization today because it is recognized that the structure, culture, and management of the organization have a huge influence on organizational performance.
Personal Effectiveness
So what is personal effectiveness? Personal effectiveness covers those skills and abilities that we need to have, regardless of our job, status or professional background. Personal effectiveness is about using the key skills we have identified to achieve greater productivity and successful results – whether that be on a business or personal basis.
Quality and excellence
The words quality and excellence are used in a wide variety of contexts in organizations. We refer to a quality product, a quality company, excellent business procedures or excellent service. So what exactly do we mean by these terms? Does quality mean conformance to specifications? Does it mean a product or service without flaws? Does it mean excellence?
Business administration at work is managing a company's operations and allocating its resources to meet predetermined goals and objectives. The title "business management" may also be applied to the position. It is a vast field that includes managing an organization's daily operations as well as its finances, marketing, human resources, and accounting. To realize the company's goal, business managers prepare long-term plans and projects.
Typical obligations include: Both individually and collectively, organizing and managing employees, adding fresh personnel, energizing workers, in charge of resources, reporting and managing the company's core functions.
To complete a degree program from the Bangladesh campus at University Road, students will need to have consistent access to a computer with a reliable internet connection. If students are working on a computer that is not their personal computer and are unable to save documents, it's important also to obtain an external drive. Because there are no mandatory video materials for University Road courses, this drive can be a simple USB drive.
Most of the learning materials that students will be dealing with in their UR courses are compatible with Adobe PDF or Microsoft Office. Our learning platform, Moodle, can be accessed by the latest versions of IE, Safari, Opera, and Chrome, but we recommend that students use the latest version of Mozilla Firefox. Note also that although working through a mobile device is not recommended, it is an option. There is no need to purchase software to study at University Road.
Note that whatever system students choose to use, all files shared with Course Instructors and classmates must be saved in either Microsoft-compatible formats or PDF format.
FAQ
1. Is it available for students from every country?
Yes
2. How many hours per week?
15-20 hours per course per week.
3. How many students per class?
20-30.
4. Can students fail? Can students re-sit? How many times?
Yes, students can fail, and they are permitted to re-sit – once.
5. Are there opportunities for classes to meet in person?
The university Road does not facilitate face-to-face meetings as this would be impossible due to the global make-up of the classes.
6. How are students graded?
Students will be graded on performance on assignments that can include quizzes, discussion forum submissions, papers, case studies, projects, presentations, and more.
Cirtificate
Diploma in Business Administration
Ten modules and five written assignments make up the level 6 diploma in business administration; each module has about 40 hours of supervised instruction. Students will have access to a variety of study tools while completing their online business diploma, including webinars, social learning forums, tutor support, and other materials to aid in finishing their graduate business course.
After completion of this course student will be provided with dual degrees . That is certificate from not only UR but also IAU Business Department.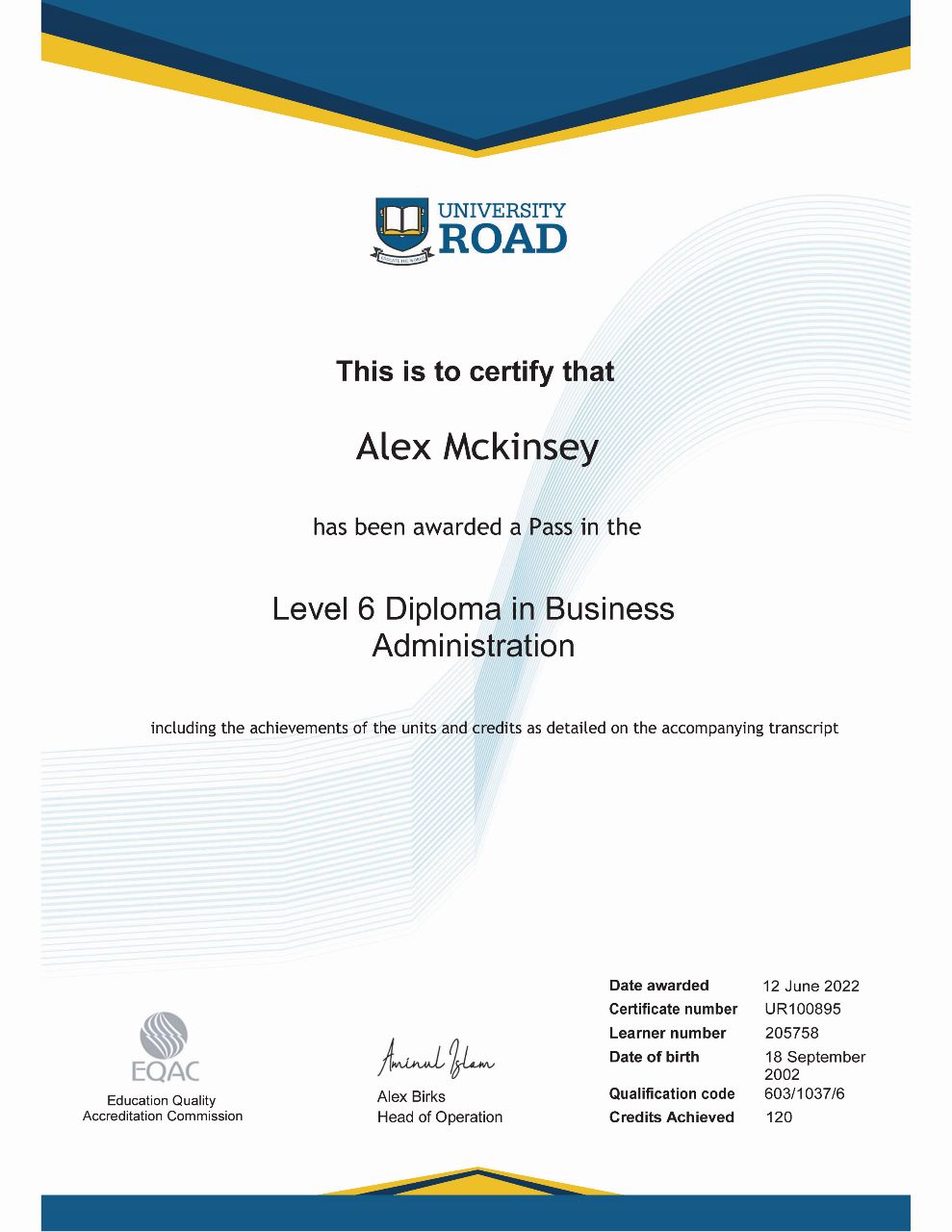 Advantages of UR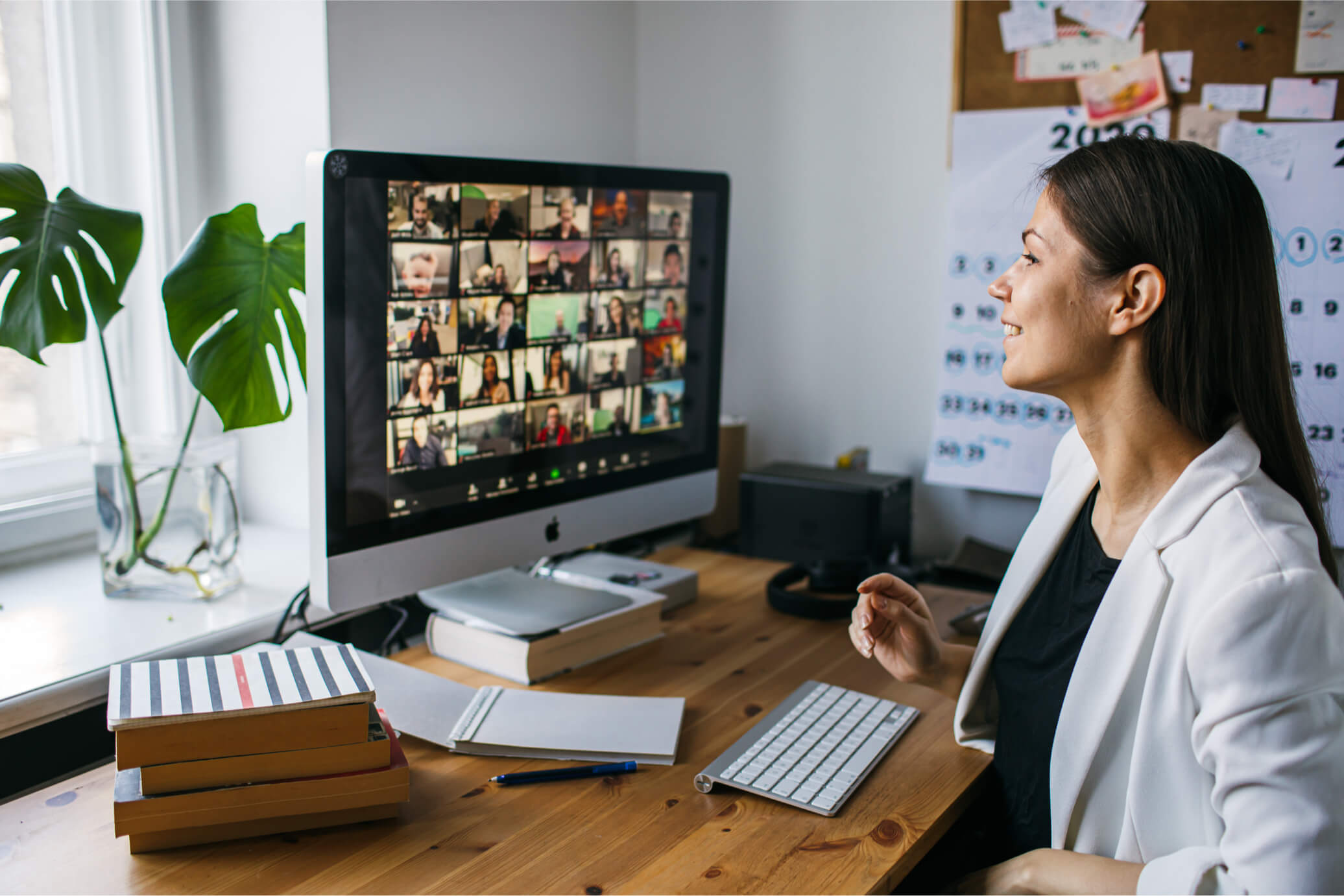 Industry Mentors
· Receive unparalleled guidance from industry mentors, teaching assistants, and graders
· Receive one-on-one feedback on submissions and personalized feedback on improvement
Student Success Mentors
· A dedicated Success Mentor is allocated to each student so as to ensure consistent progress
· Success Mentors are your single point of contact for all your non-academic queries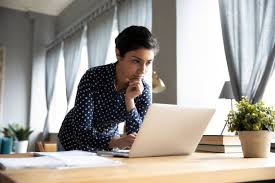 Q&A Forum
· Timely doubt resolution by peers and Teaching Assistants on the Q&A forum
· Personalized feedback on assignments and case studies
Expert Feedback
· Personalized expert feedback on assignments and projects
· Regular live sessions by experts to clarify concept-related doubts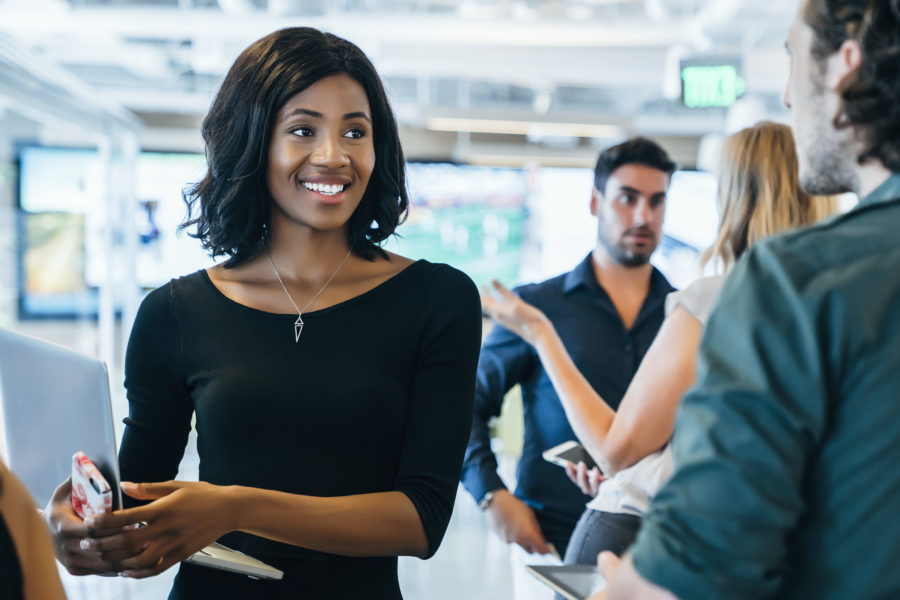 Industry Networking
· Live sessions by experts on various industry topics
· Group discussions
One-on-one discussions and feedback sessions with industry mentors

Admission Details
APPLICATION PROCESS
Candidates can apply to this program in 4 steps.
ADMISSION COUNSELORS
We have a team of dedicated admissions counselors who can guide you as you apply for this Data Science certification. They are available to:
Address questions related to your application

Provide guidance regarding financial aid (if required)

Help answer questions and understand the program
Get advice from our admission counselors.
Empowering learners of tomorrow
The Bachelor of Business Administration (BBA) degree program aims to develop students' intellectual ability through an appropriate blending of business and general education. The program assists the student in understanding and developing the unique leadership qualities required to be successful in business functions, an organizational unit, or an enterprise. The coursework provides students with a solid business foundation in the field. An emphasis is on critical thinking, decision-making, and Christian ethical behavior. The BBA degree program is designed to provide students with opportunities to explore business administration and meet educational goals and enhance their career opportunities.
A degree in this area also enables you to look for opportunities in international public agencies, businesses, and nonprofit organizations. An associate or bachelor's degree is required for entry-level positions, although advanced administrator posts may call for a post-secondary degree and decades of work experience.